Digi-Mail
Our Direct Mail Works
What is DigiMail

What it is:
It is just the right mix of "state of the art" Digital Marketing products designed and customized around your direct mail marketing campaign and other established print products, like our Advantage Coupon Magazine and a Fistfull of Dollars Magazine, which have been drawing in measurable, trackable consumers for over 30 years.
How We Got There:
After enormous research and careful A/B testing of digital products and services, we use just the right complementary digital mix, timed specifically, to work hand in hand with your other marketing tools to lower your lead cost per customer acquisition and to compliment your other marketing deployments.
Our Digital product suite is customized around your business or industry to facilitate business growth at the rate that you need the leads to flow. We offer lead generating software and platforms that work. We offer affordable digital and print solutions for smaller mom & pop budgets or growing, aggressive marketing strategies for medium sized, and enterprise-level multi-location businesses.
How It Works:
We assign you a personal marketing consultant that will work directly with you on all of your marketing needs across your global marketing partnerships, as well as your digital footprint across the World Wide Web.
Why It works:
Our web developers and IT techs, are some of the most knowledgeable in today's industry when it comes to lead generating website construction, or a current site rebuild, eCommerce solutions and retargeting services. We KNOW how to help.
Whether it's SEO, Facebook, Instagram ads- or posting, Geo-Targeting and retargeting, mapping citations, professional emails, or CRM's we are here to help.
Call today for a free, no obligation site evaluation by the professionals who know how to help you and your business.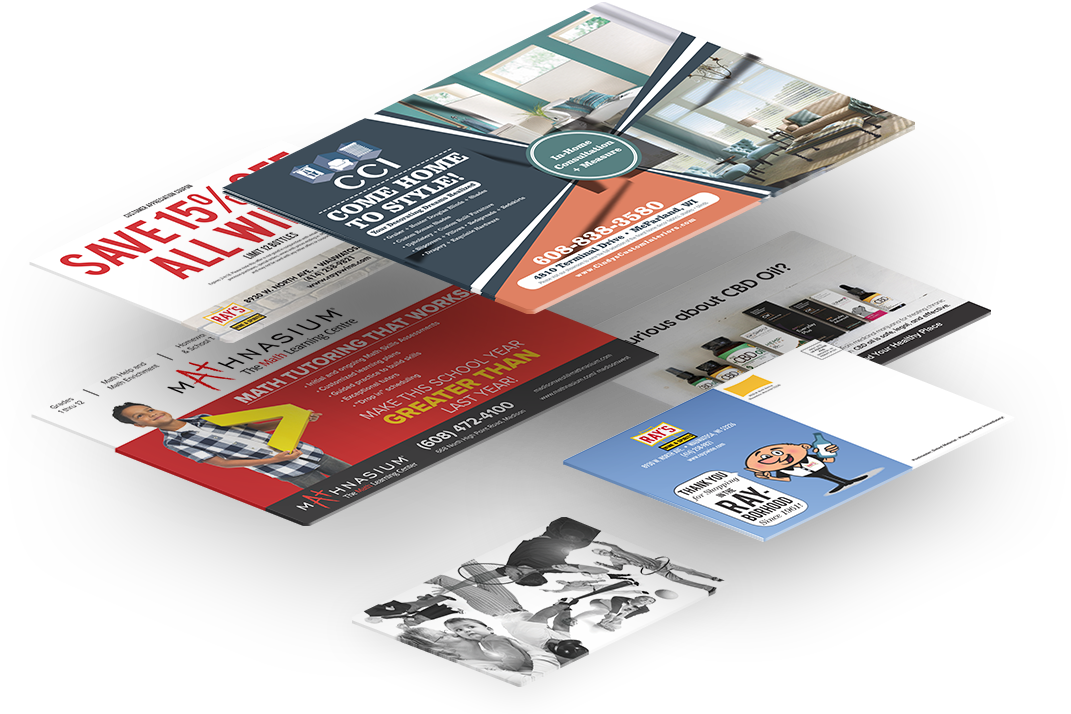 We Provide Service to all Industries
Direct mail works well with every type of business
Browse our work for the most popular direct mail industries below
Direct Mail works has brought my company to new heights. They have taken time to figure out what would be best for my company. At Apple Wellness we are all about educating the public on the natural way and Direct Mail works has helped us in that mission! Thank you to the whole team!!!
We have been using Direct Mail Works Madison for our direct mailing advertising program for three years. Previously we had advertised in their "Advantage" magazine.
We get great results from the targeted postcard program! I love the designs that the team comes up with and the ability to mail to our customer demographic is what sets them apart.
Direct Mail Works has been easy to work with and very helpful with design on our postcard mailings. They are very willing to create a plan that fits our needs in every way and at a fair price!

Collaboration
One-on-One meeting with a StrategINK team member.
Research & Planning
In-depth analysis of your business & consumer base.

Develop & Design
Dynamic design & development of custom solutions.
Implementation
Deploy the solutions, track results, and hone the strategy.