The Power of Direct Mail & The Dynamics of Digital Marketing
Direct Mail is unique in its ability to penetrate every residential living unit or business in its target market with immediacy. We do Direct Mail like no other company in the industry. We have the skill to combine the power of direct mail with video and the dynamics of digital marketing for the ultimate combination to give your business an efficient, low cost customer acquisition and higher return on investment.
Get More Information
Why Our Direct Mail Will Work For Your Business
Since 1985 Direct Mail Works has offered cost-effective, affordable, lighting-fast solutions to get your business's message in front of data driven and ready to buy customers.
Call Today 608-271-5844
Direct Mail
Our Direct Mail campaign strategies are customized to place your companies message in front of the consumers that matter most. This ensures higher conversion to revenue ratios for your service or business.
Digital Marketing
Our Digital product offerings coupled with tactical expertise will put your business everywhere potential customers are looking, from paid ads to social media (Facebook, Twitter…) accuracy and affordability.
Digi-Mail & Video
Build a complete online presence from web design to front page search engine visibility. Our bundled Direct Mail, Digital, & Video product line support each other to offer an even lower cost per consumer acquisition opportunity for your business.
Since our inception in 1987, Direct Mail Works has been the preferred partner to small and medium sized business by offering affordable customer acquisition solutions compared to mass media outlets. We create and combine premium graphics, functional messaging, and precise targeting for optimal consumer engagement. Over 75 percent of our clients are repeat customers – proof positive that our direct mail campaigns work!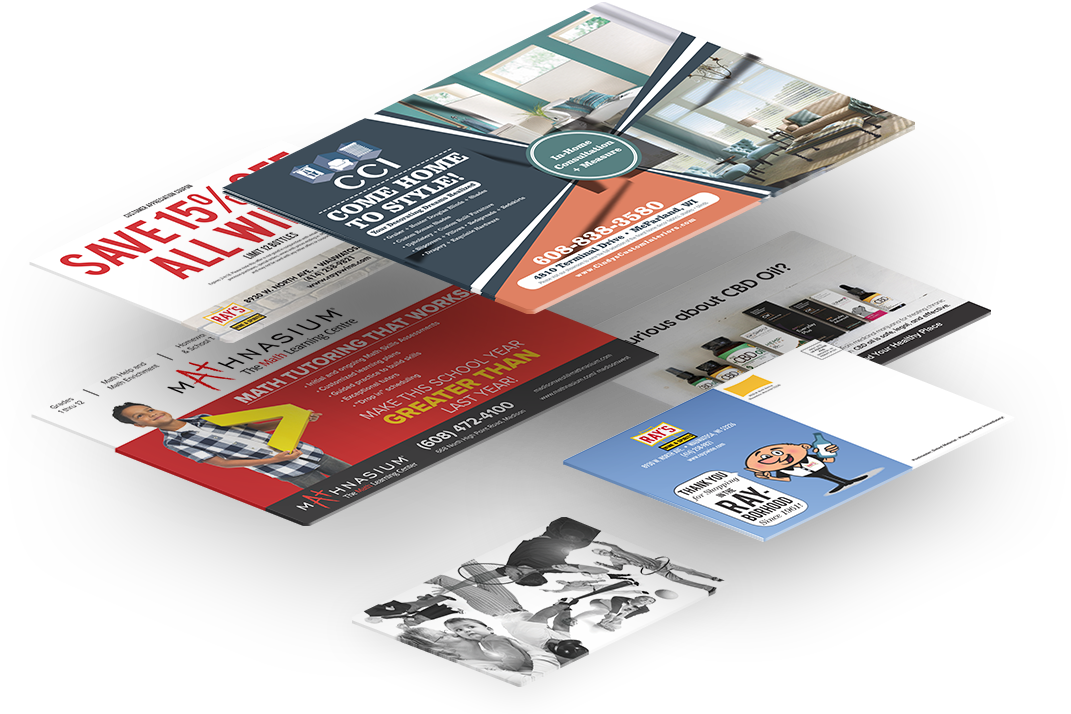 Cutting-Edge Digital Marketing & Video
Everything from Social Media Marketing, Paid Per Click Ads, Video Marketing, and Web/App Development – our in-house team knows the ropes. We specialize in creating online traffic through Google, Yahoo and Bing. The cutting- edge BusinessAI™ CRM tracks your entire digital marketing footprint providing real time analytics, re-targeting abilities, and more. We will help to insure continuity across your businesses global marketing partnerships and provide real ROI growth by creating a personalized digital marketing strategy rather than a cookie cutter-one size fits all plan."
Digi-Mail: Combining Direct Mail with Digital Marketing
We've combined Direct Mail & Digital to create the most expedient method to get your companies message in front of ready to buy customers. A local Direct Mail & Digital team creates solutions that are tailored to your businesses needs. Our Digi-Mail™ value stack is a complete way to build awareness, web traffic to customer conversions and increased revenue – allowing your business to compete with the giants in your market.
Our StrategINK™
Work-Flow.
We begin the process of developing your strategy with Investigation and Interrogation (it's not as bad as it sounds). We review your website in order to understand the business and how it's portrayed to the public.
We collaborate & conquer! We blend our expertise along with our client's knowledge of their business to identify the target consumer and build the proper message and incentives to motivate the target consumer to make a purchase.

Collaboration
One-on-One meeting with a StrategINK team member.
Research & Planning
In-depth analysis of your business & consumer base.

Develop & Design
Dynamic design & development of custom solutions.
Implementation
Deploy the solutions, track results, and hone the strategy.